FACTORY OF BENTONITE PRODUCTS
In 2016, AAG built a modern factory for the production of bentonite products with a design capacity of 100 thousand tons / year. The plant is located in Village: Dvabzu, on the north-eastern outskirts of Ozurgeti, on the right bank of the Natanebi River,
The construction of the plant was preceded by a long period of studying modern technologies for processing bentonite in a number of European countries – Poland, Italy, Germany, and Turkey. Technological tests of pilot batches of bentonite from a quarry at the Vanis-Kedi site were carried out at factories in Poland and Germany. As a result of these preparatory activities, equipment was selected for the cost-effective production of high-quality bentonite products for various uses. Equipment manufacturers are the leading German engineering companies in their sector.
All equipments are installed in one building, in which there are large areas for the reception of raw materials and its averaging before processing, as well as averaging between the main technological conversions. The stock of raw materials in the factory building allows the technological line to work without interruption even in the case of long rainy periods, complicating the delivery of clay from the quarry to the factory.

LABORATORY
From the first days of the enterprise's operation, the central factory laboratory has been functioning, equipped with modern equipment to control the quality of the extracted raw materials, monitor the parameters of technological processes and test the products for compliance with the standards and specifications of consumers. Laboratory staff are distinguished by professionalism and many years of experience.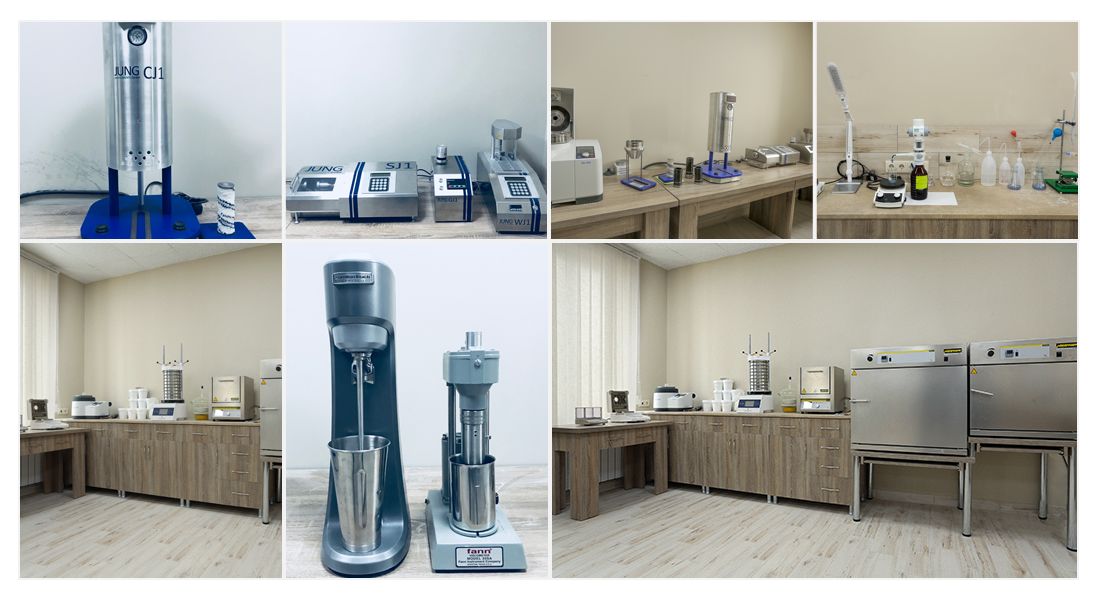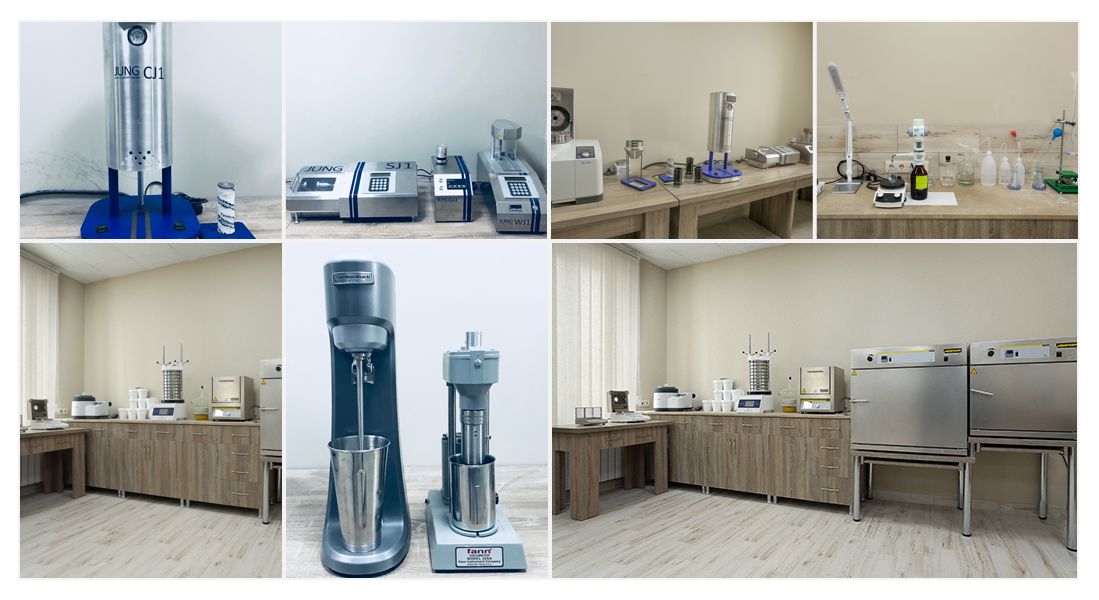 Основные виды выполняемых анализов
№

Indicators

Standard

Device
Properties of bentonite

1

Humidity

ГОСТ 28177 – 89

Moisture meter

2

Methylene Blue Adsorption

VDG P-69

JUNG, Methylene Blue Clay Tester

3

Swelling index

ASTM D5890

Graduated cylinder
Properties of molding compounds

4

Dry sieve powder analysis
Instructions for the device

HAVER EML 200,

AS 200 jet

5

Compressive strength when wet

VDG P-69  or ГОСТ 28177 – 89

JUNG SJ1,

Compactor CJ1

6

Tensile strength at break in the zone of moisture condensation

VDG P-69  or ГОСТ 28177 – 89

JUNG WJ1,

Compactor CJ1

7

Thermal stability

ГОСТ 28177 – 89

JUNG SJ1,

Compactor CJ1

8

Gas permeability
Instructions for the device

JUNG GJ1,

Compactor CJ1

9

Colloidal bentonite

ГОСТ 28177 – 89

Graduated cylinder

10

Water absorption of bentonite

ГОСТ 28177 – 89

Cylinder
Properties of drilling fluids

11

Standard viscosity yield

–

Fann-35

12

The viscosity of the suspension at a concentration of 22.5 g / 350ml.

ISO 13 500,

API 13A

Fann-35

13

Filtration (water loss)

ISO 13 500,

API 13A

Fann -press

14

Mud weight

Mud-balance

15

Marsh funnel viscosity

ISO 13 500,

API 13A

Marsh-funnel

16

Static shear stress, Gel-str,
Instructions for the device

Fann-35